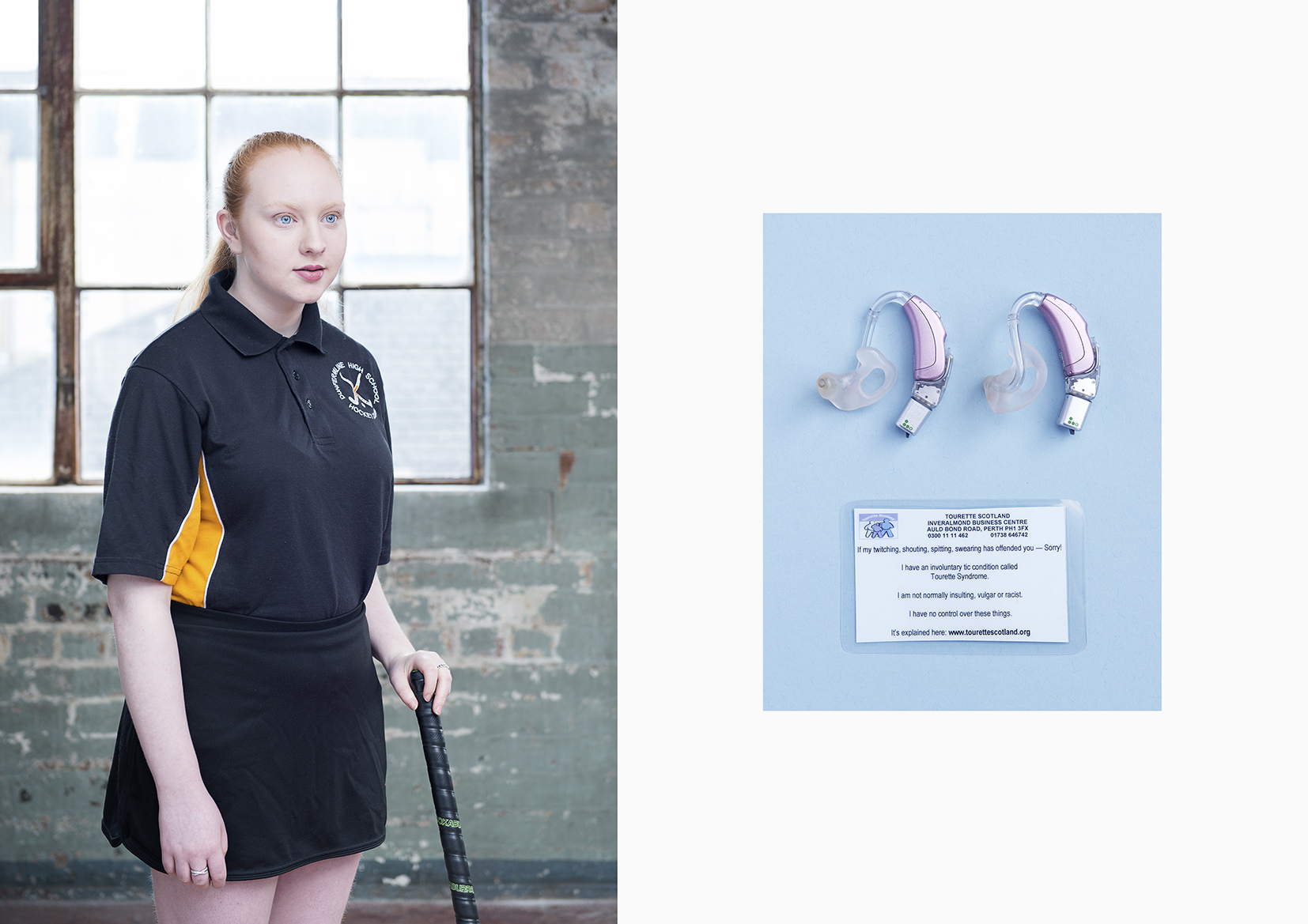 Abbie // 15
Abbie was seven years old when it was discovered that she had some loss of hearing. She also lives with Tourettes, which she is able to control without medication. Neither of these health issues stop her from doing whatever she wants to do. Her hobbies include track running and hockey.
Charles // Diana Morphine // 18
Charles came out as gay to his friends and family at a young age but also struggled with his gender and sexuality, unsure of how to describe himself. After trying drag, he knew that he was not transgender or pan-sexual as he had thought, but in fact a gay male who liked drag. He describes his alter-ego Diana Morphine as heroin - an addictive drug - and a heroine - someone who saved him.
Harmony // 16
Harmony attends the Edinburgh Music School, playing the flute and piano - but singing and musical theatre are her main passions. Harmony sometimes wonders if her skin colour affects the likelihood of her getting roles, but so far, thinks she has done well and doesn't feel like she is being descriminated against. She has racked up an impressive run of shows in Scotland but would like to move to London to continue her education in Acting and Performance and pursue her career there.
 
Susan // 16
Susan is in fifth year at secondary school but is also doing a part time NC in Acting and Performance at Edinburgh College. She wants to continue with this course throughout sixth year, earning an HNC, and then hopes to work in film and television after she has received a degree.
Willow // 13
Willow is the eldest of three sisters and is very artistic. She has been making and selling cards at local markets for about two years. Willow has recently aquired a sewing machine and started to make clothes herself. She keeps a scrapbook of potential designs and ideas. Willow has also been in the Scouts for two years and enjoys the outdoor activities and adventures.
Mya // 10
Mya is an identical twin and the eldest of six from a close and loving 'blended family'. Mya has just started modelling with her twin sister Kaityln and is a confident young girl who feels comfortable walking into new experiences.
Kaden // 17
Kaden was born a girl, but from a very young age, realised that 'she' felt more like a 'he'. Kaden changed his name when he was 15 years old and identifies as a transgender pansexual demi-boy. He is also a secondary carer for his mum who has MS and diabetes. He is involved with a group which supports young carers and this is an issue which is very important to him. Kaden hopes to study Acting and Performance at college this year.
Mhairi // 14
Mhairi and her twin brother were born in Bristol before moving to France for seven years. She started playing football with her brothers and joined a team when she moved to Scotland. Mhairi says that people expect her and her twin brother to be best friends, but that that's only the case "sometimes". She is also a girly girl and enjoys shopping and experimenting with new looks and styles with her friends.
Martyna // 18
Martyna moved to Scotland from Poland with her mother when she was six years old following her father's death. She describes herself as 'European' rather than Polish, British or Scottish and is studying International Relations at Edinburgh University. She passionantely believes that the UK should remain within the EU as she believes that being in the EU had allowed her so many opportunities which she might not otherwise have had. After university, she is keen to explore more of the world.
Calvin // 16
Calvin is into heavy metal music, even attending Download Festival last year. He can play the piano, the guitar and the violin. He is also into film and photography and is considering studying the arts at college. Calvin volunteers in a charity shop every Saturday which gives him some work experience.
 
Yannik // 15
Yannik has been doing Parkour for two years and although he appears to be very confident in doing it, admits that he is still nervous about some of the moves. He has built two 3D printers and would like to do Robotics at university after school - with Oxbridge being a strong possibility.
Jess // 18
Jess is studying 3D Animation at Edinburgh College. She left school during fifth year, meaning that she did not sit any Highers, but was accepted onto the course on the basis of her strong portfolio. She cites Tim Burton as her biggest influence. Jess describes herself as a practising Wiccan, believing strongly in the Three Fold Law. Jess entered the cosplay world last world last year as Alice in Wonderland and much of her confidence has stemmed from finding other like-minded, creative people.
Kaitlyn // 10
Kaitlyn has just started modelling with her twin sister Mya and while they are very close, they are quite different. Kaitlyn has OCD and anxiety. On a daily basis, she washes her hands several times and needs constant reassurance about everything she does. Kaitlyn and her mum are very open about this because they think it's important to talk about mental health so that it becomes as normalised as physical health issues. She also hopes that by telling her story, other young people will not be scared to tell theirs.
Caitlyn, 14
Caitlyn has always been a good swimmer, and last year, she started doing synchronised swimming. She will be taking part in her first competition this June. Caitlyn enjoys maths and science at school and thinks she would like to study Mathematics at university.
 
Laura // 18
Laura is in her final year at Mary Erskine's and is passionate about politics. Laura was in the first generation of 16 and 17 year olds who were able to vote during the Scottish Independence Referendum. Being a member of the Scottish Youth Parliament, she has to remain impartial about who she supports, but her role is to engage and eduacate the young people of Scotland about politics and the voting system. She is also involved with her local church and air cadets. Laura plans to study History and Politics at university.
Callum // 14
Callum has a twin sister and enjoys photography and computer programming - he hopes to make the latter his career. He lived in France for a few years with his family and while he became quite fluent in French while living there, he admits that much of the language has fallen away because he is not using it on a daily basis.
Poppy // 18
Poppy is in her final year at school where her favourite subjects are the sciences. She is interested in politics and conservation issues. She is hoping to spend the summer doing some voluntary work before going off to university to study Optomoetry.
 
Cameron // 17
Cameron went from 21 stone to less than 16 stone two years ago when he decided that he wanted to pursue a career in the army. He has been accepted to study Health and Fitness at Edinburgh College and plans to apply for the army at the end of his course. Although he put a little weight back on during his parents' separation, he understands that life will be up and down and is as determined as ever to reach his goal. He hopes that by sharing his story, he can inspire other people to realise their goals.